14 April 2015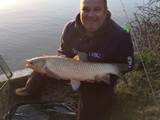 He pops up now & again......
Must have been on a diet for a while, on the bank at around 8lb this time (been recorded at almost 11lb in the past). First fish of a short session for member James Pitney, peg 1, at obout 3/4 across the lake in open water.
Andy Tatts was there at the same time and had a couple of the larger commons, 18.9lb & one a bit under that, as well as a fully scaled double mirror off the surface in the corner by peg 3.
See: http://youtu.be/9_07980vEp0?hc_location=ufi
Good to see.
---
Click here to read other articles in our archive