Harbour Bridge Lakes. 07790 759199
---
Harbour Bridge Lakes, Weymouth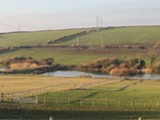 ---
Please call 07790 759199 for details and bookings
CONSESSION LAKES
2 x 2 acre adjoining Lakes with features & islands, in open countryside. A day ticket fishery that DDAS members can fish for an additional £2 per day.
---
Bream;
Bream Skimmer;
Carp Common;
Carp Mirror;
Eels;
Perch;
Roach;
Rudd;
Tench;
---
Lakes open all year round for day fishing & day/night fishing, 48hrs max' in one swim. (both lakes will be closed for the first 7 days of January each year).
---
Barbless hooks only. 3 rods are allowed but a 3 rod EA Rod Licence is required when using 3 rods, please respect other Anglers fishing. No guns, fires, radios or camping (dogs allowed if DDAS dog licence is held). No metal drink or bait cans to be taken onto the land. Fishery keepnets only (on request from landlord). Use unhooking mats for all Carp over 5lb. Do not discard any fishing line (of any length) on the bank. Braid hooklengths are NOT permitted. Please Take all your litter home.
---
At the Manor Roundabout (Weymouth Gateway, next to Morrison's supermarket) head north on the old Dorchester Rd (A354) for 0.7 miles, turn left onto Nottington Lane, after 0.4 miles, turn left (signposted 'Chickerell 2 miles').

Continue along this road for 0.5 miles, when you reach the electricity pylon, turn right onto the track (not the lane). Park in the layby before the gate. Walk along the track to the lakes.

Members are required to agree to an indemnity required by the landlord. Please TEXT the landlord before setting off to fish to enable to let you know there are pegs available. Email via this website for the phone number.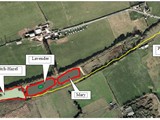 ---
Witch Hazel Lake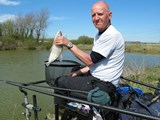 ---
---
Carp Common;
Carp Mirror;
Perch;
Roach;
Rudd;
Tench;
---
---
---
---
Mary Lake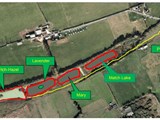 ---
1 acre lake with small island
---
Bream;
Bream Skimmer;
Carp Common;
Carp Mirror;
Rudd;
Tench;
---
---
---
---