Sharnhill Green Lake. Buckland Newton
---
Upper lake only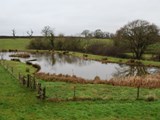 ---
A small but very pleasant Lake in open countryside close to Revels Fishery.
---
Carp Common;
Carp Crucian;
Carp Mirror;
Tench;
---
Open all year round for day fishing only. Available from sunrise to 1 hour after sunset.
The lake will be closed for the first full week in January each year.
---
Check the fishery notice board at the lake before fishing for current rules and regulations.
Keepnets are not permitted until further notice (amended March 2022).
---
Exit Dorchester onto the 'old Sherborne Road' (at the bottom of hill, behind County Hall), stay on this road for approx 9.5 miles, turn right at the sign for Buckland Newton (top of Revels Hill). Carry on down the Hill for 1 mile. Take the 2nd Right towards Buckland Newton (B3143). Follow this road for approx 500 metres, turn left onto Castle Lane (opposite the pink coloured house), follow this road for approx half a mile. Turn right at the white painted signpost for Bookham. After 300 metres, turn left, follow the track, park in the bay provided just past the gate to the lake, on the right. Please do not park on the track or verge on the lake side.
---