Potwell Lake, Broadwindsor
---
Potwell Lake, (Potwell Nurseries) Mosterton Rd, Broadwindsor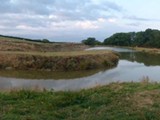 ---
Potwell Lake is approx 1 acre in size, with variable depths. Situated in the picturesque, rural landscape of West Dorset. A newly constructed lake, it offers opportunities to fish for carp, tench, bream, trout and roach.
DDAS members may fish this day ticket lake 'FREE OF CHARGE'.
---
Bream Skimmer;
Carp Common;
Carp Crucian;
Carp Mirror;
Roach;
Tench;
Trout;
---
Open all year round for day fishing, with the exception of the first 7 days of January each year.
Times: Gates open from 8.00am (possibly earlier by prior arrangement ONLY, by calling 07919 091508) until 10pm or 1 hour after sunset whichever is the earlier.
---
Abide by the rules & regulations displayed in the signing in hut adjacent to the car park.
NO KEEPNETS.
---
Postcode: DT8 3QT
From Dorchester take the A37. At Grimstone, turn left onto the A356, continue on this road for approx 16 miles (passing the turning for Kingcombe). Take the left fork soon after the 'toller down gate' junction (road not signposted or named). After approx 3 miles, cross the road - dog legged. (signposted Broadwindsor & Crewkerne). After approx 3 miles, at the junction, turn right onto the A3066 (signposted 'Mosterton'). After approx half a mile, turn left onto the B3164 (signposted Broadwindsor 1.5 miles). After approx 1 mile, look for the 'Potwell Nurseries' sign on the right. The lake car park is through this entrance, straight on, down the track.
PLEASE sign in, in the log located in the hut adjacent to the car park (this is also a toilet).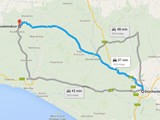 ---