Luckfield Lake Broadmayne
---
Broadmayne, near Dorchester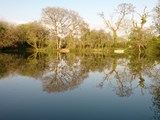 ---
DDAS are the proud OWNERS of this 1acre tree lined lake in a secluded, secure area that is abundant with wildlife
(This lake is not available on the exchange book system)

Please Sign in on arrival & record catch/sign out on departure.
Opening Times

DAYTIME FISHING:
Fishing between Dawn and 10.00pm, or one hour after sunset, which ever is the earlier (sunset times are displayed in the log, on site).

NIGHT FISHING:
A limited amount of 'MEMBERS ONLY' 24hr bookable sessions are available on Tuesday, Thursday and Saturday only.
No more than 2 sessions to be booked in advance using the CLUBMATE APP. Night fishing pegs (1, 2 & 3 only) will only be available from 5pm unless free beforehand. Bivvies are not to be erected until 7pm (or 30 minutes before sunset). Day anglers using these pegs are kindly asked to vacate them before 4.45pm if they are booked.




---
Barbel;
Bream;
Bream Skimmer;
Carp Common;
Carp Mirror;
Eels;
Perch;
Roach;
Rudd;
Tench;
---
---
Barbless hooks only. No nuts or Beans.
Boilies allowed as hook bait only.
Maximum of 2 rods per person, 3 rods may be used but only when there are a maximum of 4 anglers fishing, a 3 rod EA rod licence is required when using 3 rods. Please respect the fishing areas/swims of other anglers.
No guns, fires, radios, picnics or camping.
No metal drink or Bait cans to be taken on to the site.
Use only swims provided, no stalking between swims. No bolt rigs, safety clip system allowed.
No braided main line (hook lengths allowed-18" max).
Members under 16 years must be accompanied by a senior member.
No keepnets, except in controlled matches.
Use unhooking mats for all fish unhooked on the ground, unhooking fish from within a landing net held off the ground (between your legs) & returning immediately is permissible.

---
From the A35 in Dorchester, take the A352 west. At the MaxGate Roundabout, take the 3rd exit and stay on the A352. Go straight over the nest roundabout. After 2.5 miles, arrive at Broadmayne. Turn left (opposite the garage) onto Knighton lane, after 0.3 miles, turn right into Watergates Lane. Follow the lane for 0.5 miles, please drive carefully (uneven road), maximum speed of 10mph. Look for the DDAS sign above a 5 bar gate at the entrance to the parking area.

Please park in accordance with the signs displayed in the parking area. Anyone not following this system could be asked to leave.
N.B. Parking elsewhere is strickly forbidden. Please lock and scramble the gate combination on entry and exit every time.
---