Kingcombe Farm. Toller Percorum
---
Lodge Lake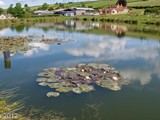 ---
DDAS have exclusive use of the 2.5 acre 'LODGE LAKE' (adjacent to the lodge on the left as you turn into the farmyard).

In addition, DDAS Members may fish the other lakes at the special rate of £7 per day, payable (in the hut) on production of the current membership card, £10+ for non members. Fishing may take place between sunrise to 30 minutes after sunset or 10pm, whichever is the earlier.
---
Bream;
Bream Skimmer;
Carp Common;
Carp Crucian;
Carp Mirror;
Chub;
Eels;
Gudgeon;
Perch;
Roach;
Rudd;
Trout;
---
Open All Year round with the exception of the first 7 days of each new year.
---
- barbless hooks only

- No boilies, tins, litter or camping. Dogs allowed if a DDAS dog licence is held.

- Members under 16 must be accompanied by senior member/adult

- Limit of 1 lb groundbait per visit

- Keepnets for 'Silver Fish Only' may be used at the Fishery owners discetion (they are to be layed out on the bank for 45 minutes before putting in the water).

- Please leave all gates as found

- Avoid disturbing livestock

---
Exit Dorchester on to the A37 (Yeovil Road). Just beyond Grimstone, turn left onto the A356 Crewkerne Road. Pass through Maiden Newton, up the hill and continue until you reach the BBC Beam Station Pylons. Turn left immediately before the pylons. (Finger sign: 'Kingcombe 1 mile'). Carefully follow the road down the hill to the crossroads. Turn left, Higher Kingcombe Farm is 400 yards on the right. Park in the Lodge Car Park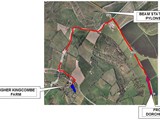 ---
Lower (2 island) Lake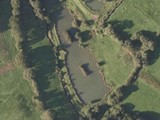 ---
This lake is available to DDAS members, Free of Charge, but can still be used by day/night ticket anglers'.
''this is on a 12 month trial period only''
Night fishing is allowed by DDAS members....for a maximum of 48hrs only (in any 72 hr period).
The other specimen lake is NOT on the DDAS books, you must obtain a day/night ticket if you wish to fish that lake, anyone caught abusing this arrangement could be banned from the society.
---
Bream;
Bream Skimmer;
Carp Common;
Carp Mirror;
Perch;
Roach;
Rudd;
---
---
Same as Lodge Lake, with the exception that boilies may be used on this lake.
Please do not use fixed rigs, safety clip system is allowed.
---
Same as Lodge Lake but park in the lower car park.
---