26 November 2014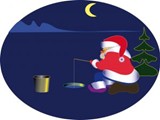 This annual 'All members Welcome' xmas match (not serious!!) is only just over a week away. Entry fee is only £5 and you are guaranteed to go home with at least £10 worth of prizes! The better placed you are, the better the prize (including a FREE 2015 DDAS membership).
There will be FREE Bacon rolls & tea/coffee before the draw (8am-9am) kindly provided by Jason Fricker (fishery owner). Sausage rolls n coffee during the 'half time' break. Mince pies n coffee during the prize giving!
Just let us know if you fancy it ASAP please (need to get the right amount prizes beforehand).
Be great to see a few new faces (the old ones too!!)
Cheers!
---
Click here to read other articles in our archive