2 November 2014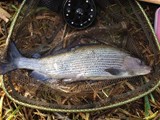 River Frome, Grayling match report, 2/11/14.
As the draw for pegs took place, the rain stopped, good omen?...I think so.
The majority of matchmen opted for a peg above the Old bridge after hearing about a good few fish that were banked yesterday (it was a rover type draw). A couple aimed for the buttress and a few went below the road bridge. There was a nice pace on it, and just a tinge of colour from the overnight rain.
Anyway, in a nut shell, it was a good day for most.
The match was won with 30lb 7oz of grayling & dace (approx 12lb of dace) which included 4 grayling over 2lb. This was from a peg above the old bridge.
The 2nd and 3rd places, with weights well over 10lb (inc' dace again!) were from below the road bridge..normally not fancied pegs...so they say!
There were a couple of lost fish that were at least 3lb (or might have been sea trout?)... We'll never know!
In all, a great day...well worth a visit before the weather turns!

---
Click here to read other articles in our archive