31 October 2014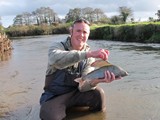 Members are reminded that the River Frome at Wool & Worgret is available to members from sunrise on the 1st November until sunset on the last day of February 2015.
Please be aware that the Wool stretch will be closed to pleasure anglers on sunday 2nd until 3.30pm for the Grayling Shield Match (1st sunday every year).
Don't forget to send us your catch photos...it's always nice to see a good catch (doesn't have to be a monster either).
Enjoy!!!!
---
Click here to read other articles in our archive