12 September 2014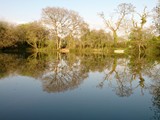 Bank clearing recently carried out on the River Stour at Hanford Farm, 28 good swims cut out ready for the winter roach & pike fishing.
Also, the dangerous overhanging tree at Luckfield (peg 6) has been removed & the pathways and other swims have had a decent 'haircut'. We also took the opportunity to 'thin-out' the large lilly pad in front of peg 4 & 5....there is now a bit more open space to fish in, in that corner (where the fish hang about!!).
Thank you to those that helped out.
---
Click here to read other articles in our archive