18 August 2014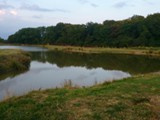 The DDAS committee are pleased to announce that we have an additional, newly constructed lake in the west of the county on our books from today (free fishing, non-exclusive).
'Potwell Lake' is in Broadwindsor (north of Bridport), basic info can be seen on their Facebook page: 'Potwell Lake'
The car park is only 5 yards away from the 1st swim!!!!
A new Tab (on the laft of this page) has been added, more detailed info will be added ASAP.
If you need any more info before it's on here, just drop us an email.
Great news....enjoy!!!
---
Click here to read other articles in our archive