15 April 2018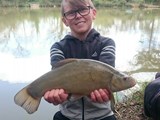 JUNIOR ANGLERS
Dear members,
As presented at the AGM, DDAS is planning a program of junior events to be held starting this summer. Over the last couple of seasons getting this kind of program off the ground has been difficult to say the least! So I'm asking for your help.
To get an idea of numbers and to create initial interest, I'm asking all members who know of any youngsters from primary school through to school leaving ages to get in touch with us.
There are several ways of doing this. Through myself on Facebook messenger or my email at the end of this post, by contacting Glenn Richards Facebook or by contacting the Secretary and/or any of the usual club contacts which will then be forwarded to Glenn or I.
As stated above, we are planning to hold Fishing days (venues and dates TBA) for anyone from complete beginners to more experienced anglers that want to expand the knowledge they already have. From everyday coarse fishing, more advanced match style fishing to the increasingly popular Carp and specimen techniques.
We also hope to include support from our affiliated tackle shops too.
Help us to secure a stable future for our club.
Kind regards and tight lines,
Graham Howard, Joint Junior Assistant and club RMO.
Email graham-howard@live.co.uk
---
Click here to read other articles in our archive