26 January 2014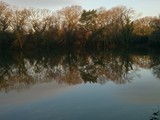 The rotten oak tree branches above peg 1 at Luckfield have been removed.
They were causing concern because of the strong winds that we are having, they may have broken off at anytime.
they were also used by cormorants as perches with a perfect view over the lake, let's hope they bugger off somewhere else now.
a bit more work to do up there next Saturday, 1st Feb, any volunteers who could lend a hand will be most welcome, from about 8.30am.
---
Click here to read other articles in our archive