2 October 2017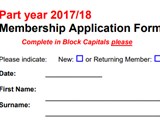 The part year DDAS membership (from 1st November) application is now available for download/printing/completion & submission.
Please be aware that memberships will not be issued until the last week of October.
Tackle shop applications will only be available from the last weekend of October.
Submit yours now to ensure membership.
Thank you,
Sec'
---
Click here to read other articles in our archive