20 March 2017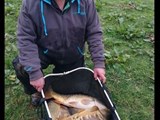 A few DDAS matchmen had a 'knock up' match at Potwell Lake yesterday.
(Limited places available, because we didn't want to close the lake to pleasure anglers).
Mick Brown (match sec') had a great day, hooking & landing several large carp, for a total weight of 61lb, 3 of his haul were well over 10lb each.
All other anglers had at least 4 carp each as well... not quire as large as Mick's though!!!
Nice place to spend a day, worth the drive out for you East County members.

---
Click here to read other articles in our archive