12 September 2016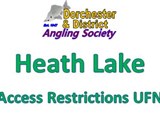 Due to essential works required on the road leading to the DDAS Heath Lake Car Park, the lake will unfortunately be closed to members during the working week (Monday – Friday) UNTIL FURTHER NOTICE.
Access will be still available on Saturdays & Sundays but members are advised to take extra care while travelling along the road as there will be 'big holes' along the side of the road & probably machinery parked on the verges.
Once the services are in place (Gas, Water, Electric for the Silverlake development), a new (posh) wall & electric gate will be put in place that will include the DDAS code.
The Silverlake management team have asked me to pass on their sincere apologies for these required restrictions. In the long term, it will be a massive improvement.
Thank you for your cooperation in this matter, once it's all finished, I will let you know.
Cheers,
Steve
DDAS Secretary
www.d-das.com
---
Click here to read other articles in our archive