13 June 2016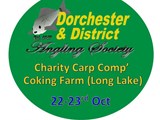 DDAS 24 hour Charity Carp Comp' - 22nd/23rd October @ Coking Farm Fishery.
On Long Lake, a maximum of 14 Angler (DDAS members only) swims available.
A £10 deposit (non-refundable) is required, to book & confirm your place, email: andyttatt@outlook.com ASAP.
Lots of prizes to be won...Finer details to follow.
(places will go fast so we suggest you book now!)
---
Click here to read other articles in our archive