13 January 2016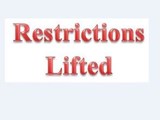 The essential works that was required in the garden of the cottage adjacent to the Luckfield lake parking spaces is now complete, access for parking/angling is now available.
BUT: 'PLEASE' ONLY DRIVE/PARK ON THE RIGHT HAND SIDE OF THE TRACK (LOOKING TOWARDS THE GATE) FOR NOW, THE NEW GRAVEL NEEDS TO BED IN ON THE LEFT.
THE COTTAGE RESIDENTS 'THANK YOU' FOR YOUR COOPERATION.
The track has been levelled off with new gravel.
The condition of the lake water is still a bit out of sorts, your committee (& other volunteers) have been monitoring it & carrying out various tests for a while now. The Aerator has helped enormously in bringing the Dissolved Oxygen levels up to an 'acceptable' level (65-70%), but we are aiming for an avarage of 70-80%.
Ammonia levels are 'well' within acceptable levels (both toxic & non-toxic types).
We will be doing the annual input of 1 Tonne of Microchalk on Saturday 30th January (lake will be closed until completion), anyone is welcome to come along and witness the process, or give us a hand doing it, just drop us an email (se we can add you to the FREE breakfast order!!!!)
---
Click here to read other articles in our archive