15 September 2023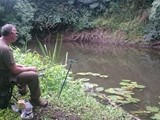 Good day folks....
Nice fishing weather for September, not too hot (now, that is), we hope you are making the most of it.
Anyway, its now the time of year that we start to do some bank/tree work on our rented stretches of the River Stour in preparation for its 'prime time' of the season (late Sept onwards). It was unfortunately neglected last year due to the amount of work/time committed to getting the new lakes up & running (still lots to do there as well).
Your committee apologise for that, but can assure you that we (with volunteer help.. hopefully) will do our very best to open up a fair few areas for those 'trotters' amongst us. The first work party will take place next Thursday 21st Sept from 9am at our Hanford Farm stretch.
If anyone out there would like to give us a hand, it would be very much appreciated. Its forecast to be a showery day so a light raincoat would be useful (it wont be cancelled).
Even if you are not a 'trotter', its a lovely section of the river, a few of us who will be there have fished it for many, many years & will be more than happy to give you some advice on where & how to hopefully land a few of its residents.
Please reply directly to this email & we can then provide more details if required.
Thank you very much, tight lines!
Steve, DDAS Sec'
---
Click here to read other articles in our archive