30 January 2023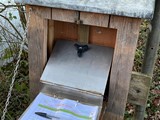 The signing in/out box at Luckfield was removed recently for refurb' & re-aligning the log book.
It has now been re-fitted… PLEASE remember to sign in & out on EVERY occasion (including booked night sessions).
It is very useful for recording use & catch rates.
No excuses 👍
Thank you!
---
Click here to read other articles in our archive