10 December 2015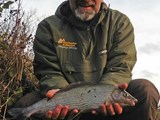 DDAS Member Gary Biles has persisted constantly in his persute of a 3lb Grayling.... He's done it!

The 3lb 4oz Lady (photo does not do its size justice) was weighed carefully (& double checked).

''It was at Wool'', he stated, ie: not telling exactly where!

Fantastic Fish, well done Gary.
---
Click here to read other articles in our archive