3 August 2022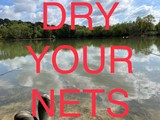 .. Please remember to ensure ALL your nets, slings, unhooking mats, weigh cradles and cloths/hand towels are COMPLETELY DRY before travelling to ANY water at all times!
KHV, the carp herpes virus is a very deadly disease & can be transferred to other waters on YOUR equipment. Please don't say; 'I will put them out in the sun when I get there'.... that is NOT permitted, we can assure you that if caught, you will be banned from the society forever!
If you suspect that someone has failed to do this, please do not hesitate to give us a call, or even approach the suspect yourself and remind them of the rules.
This is the worst time of year for the virus. Please help us keep it out of our beloved waters!!!!
Thank you!
---
Click here to read other articles in our archive