14 July 2022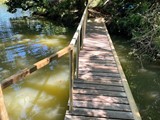 No more slipping & sliding between pegs 9 & 10 at our very own Luckfield Lake.
The new bridge is finished and ready to use.
Wide enough for a barrow/trolley, all we ask is that only 1 person uses it at a time, not that we think it isn't strong enough, it is.. but just to be on the safe side.
Don't forget to keep your unhooking mat in the shade and wet it heavily before putting a fish on it.
Thank you!
---
Click here to read other articles in our archive