27 May 2022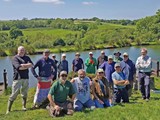 Great work done today by the DDAS crew on Lodge Lake at Kingcombe to clear the weed. 3 cuts and 3 net loads removed from the lake, it now looks brilliant.
Those who were there were .... Colin Hoare, Steve Crowford, John Anscombe, Steve Butler, Steve Gibson, Alun Watson, Nick Holt, Matt Taylor, Si Wagner, Johnny Johns, Bob Spurgeon, Nick Assirati, Chris Ward, Paul "Whisky" Haigh, Steve Sudworth, Dave Tattersall and myself.
A very special thanks to Andrea & Paul for a great pre-work breakfast and much needed coffee and tea when we had a short break. Cheers guys it was very much appreciated.
---
Click here to read other articles in our archive