11 May 2022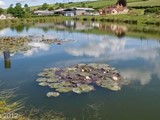 **** Lodge Lake working party ****
Kingcombe - Lodge Lake weed clearance
We are doing a weed removal/cut at Lodge Lake (Kingcombe) on Friday 27th May and need your help to get the work completed. We are planning a complimentary cooked breakfast at 08:30 before we start the work at 9am. Planned finish is around lunch time.
We need about 20 people in total, "more hands make light work .....".
If you are available to help please contact Gary Biles
by e-mail - club.sec@d-das.com or text 07766 473714
We would ask volunteers to bring their own gloves, a fork (a garden one, not one for eating sausages) and a rake if possible.
Thanks in anticipation .....
Gary Biles (Club Sec)
---
Click here to read other articles in our archive