6 December 2018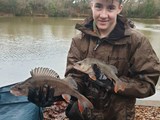 Young Theo fished in the blind pairs match at Luckfield last week, his first proper match!
He drew peg 2 and fished towards the lillies on both sides of the peg, his first fish being a 9lb+ carp, followed by the larger of the 2 perch in the photo which went off like a train he said!
His catch also included a nice bream at around 4lb and a few other smaller silver fish.
---
Click here to read other articles in our archive