5 December 2022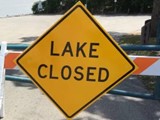 *** Heath Lake, Silverlake Estate ***
Just a reminder that Heath Lake will be closed for good from today, 5th December 2022. We will get on to the new lakes (Lysander and Lucy's Pool) on the north side of the estate early in the new year. There is still some landscaping work to do, the pegs to be built and all the fish to be moved from Heath to the new lakes.
Heath Lake has been a great asset to the club with the best match weights for a DDAS water (in excess of 150lb) achieved during matches there. Many have been put off visiting the lake due to the 500m walk from the car park and they will be pleased to know that the walk to the new lakes is much shorter. The estate plan to lower the water levels and turn the lake back into a wetland environment that it was long before the lake filled up.
I'm sure those of you did fish it - enjoyed it. Here's hoping new lakes will bring the same enjoyment to you & those who couldn't walk the 600mtrs to it.. (the new ones still require a short walk but less than a third of what the Heath lake was.
---
Click here to read other articles in our archive