Washingpool Farm Lakes, Bridport
---
Washingpool Farm Lakes, Bridport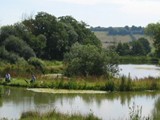 ---
Washingpool Farm is a Day ticket venue that DDAS members can fish 'Free of Charge'
There are two (1 x 1/2 acre & 1 x 1.5 acre) lakes in beautiful surroundings (the main lake is up to 12ft deep). The 3rd (smaller) pond, is now a stock pond & isn't available for fishing.
Click on the farm shop link below and go to the fishing section (under 'The Farm' tab) and additional link that has some very useful info.
---
Bream;
Bream Skimmer;
Carp Common;
Carp Mirror;
Eels;
Roach;
Rudd;
Tench;
---
Will be open all year round, with the exception of the first full week of January each year.
From dawn to 8pm, or 1 hour after sunset, whichever is the earliest.
Night fishing is available at an additional charge, details available at the fishery hut.
---
The fishery rules & additional rules in the members handbook are to be adhered to at ALL times, the fishery specific rules will be displayed on the gate leading to the fishery.
---
PLEASE NOTE:

The main entrance does not open until the farm shop opens.
Access can still be gained by driving up the track 30mts down from the main gate.
At the top of the track, bare left, then take the left hand track (of 3) & look for the 'Fishing' sign.
---